59 Seats Vote Today, PM Modi, Ravi Shankar Prasad Among Key Candidates
New Delhi: Fifty nine seats, including Varanasi, will vote today in the seventh and final phase of the Lok Sabha elections. Over 10.17 crore voters across seven states and one Union Territory will decide the fate of 918 candidates. The Bharatiya Janata Party or the BJP had won 30 of the 59 seats in the 2014 elections.
Voting will be held for 13 parliamentary constituencies each in Uttar Pradesh and Punjab, nine seats in West Bengal, Bihar (8), Madhya Pradesh (8), Himachal Pradesh (4), Jharkhand (3) and Chandigarh (1) today. In Uttar Pradesh, the BJP is contesting in 11 seats, while its ally Apna Dal (Sonelal) is contesting Mirzapur, currently held by Union minister Anupriya Patel, and Robertsganj. The party has fielded Bhojpuri actor Ravi Kishan from Gorakhpur against Congress's Madhusudan Tripathi and Rambhual Nishad of the Smajwadi Party.
All eyes are on Bihar's Patna Sahib where Shatrughan Sinha is seeking to retain the seat for a third consecutive term, this time on a Congress ticket. Mr Sinha is up against Union minister Ravi Shankar Prasad. In West Bengal, sitting MP Abhishek Banerjee, who is the nephew of TMC chief Mamata Banerjee and considered the number two in the party, is seeking re-election from the Diamond Harbour seat. The electoral fortunes of 42 candidates including that of former Chief Minister Shibu Soren will be decided in Jharkhand today.
Here are the LIVE updates from final phase of polling in Lok Sabha Elections:
Voting begins for 59 seats in last phase of national election across Bihar, Himachal Pradesh, Jharkhand, MP, Punjab, Uttar Pradesh, West Bengal, Chandigarh.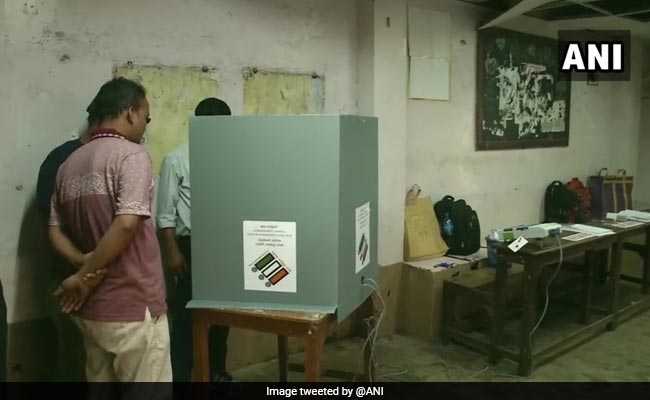 Election officials at a polling booth in Kolkata Dakshin Lok Sabha Constituency. Voting for the 7th and last phase of thee mammoth election will begin at 7 AM today.
Lok Sabha elections Phase 7 voting: Sunny Deol is BJP candidate in Gurdaspur
The BJP is hoping that its gamble of fielding Sunny Deol, who acted in a number of patriotic films such as Border and Gadar, pays off when Punjab's Gurdaspur goes to the polls today. The actor-turned-politician's candidature comes at a time when the BJP is hoping to come to power on the back of nationalist fervour generated by the Balakot air strikes. His main rival is sitting Congress parliamentarian Sunil Jakhar.
7th Phase Lok Sabha Elections 2019 Updates: Gorakhpur, a BJP stronghold, votes today
The BJP has fielded Bhojpuri actor Ravi Kishan in Gorakhpur. A full-fledged film city is one of the poll promises he has made to people of Gorakhpur, a BJP bastion. Gorakhpur had always been a BJP stronghold until the grand alliance in the state — comprising the Samajwadi Party, the Bahujan Samaj Party (BSP) and the Rashtriya Lok Dal (RLD) — defeated it in a surprise upset in the bypolls held last year. Today, few can predict which way the balance of power tilts when the results come out on Thursday.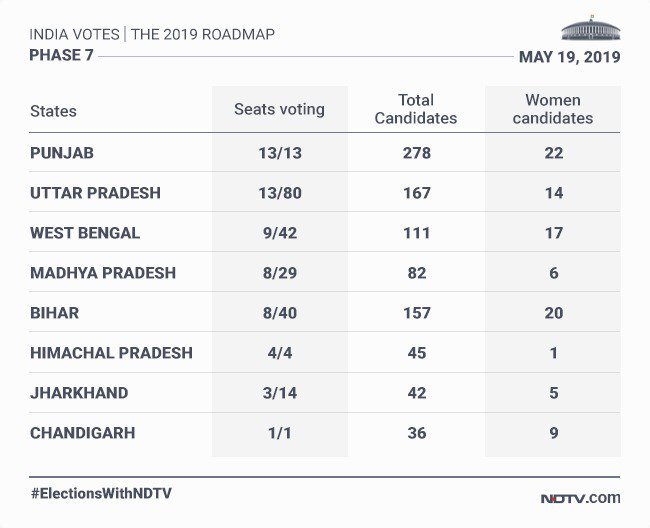 Lok Sabha election voting: PM Modi will face Congress' Ajay Rai in Varanasi
Prime Minister Narendra Modi is being challenged by Congress' Ajay Rai and grand alliance candidate Shalini Yadav in Varanasi. The prime minister had won the seat by over 3.7 lakh votes in 2014. Although PM Modi is not believed to face a major threat here, the spirited rallies led by Congress leader Priyanka Gandhi Vadra in the run-up to the polls may have just eaten into a part of his support base. It was earlier rumoured that Ms Vadra would stand against PM Modi from the constituency.
Lok Sabha elections live updates: 13 seats each in UP and Punjab will vote in this phase
Voters across 59 Lok Sabha constituencies in Punjab, Uttar Pradesh, West Bengal, Bihar, Madhya Pradesh, Himachal Pradesh, Jharkhand and Chandigarh will decide the fate of as many as 918 candidates in the final phase of the elections. The BJP has the most at stake in this phase, having won 30 of these seats in the 2014 polls. 
Phase 7 live updates: 10 crore people will vote today
Over 10.17 crore people across seven states and one union territory will vote to elect the country's next Union government.