Brexit: UK 'may consider longer transition period'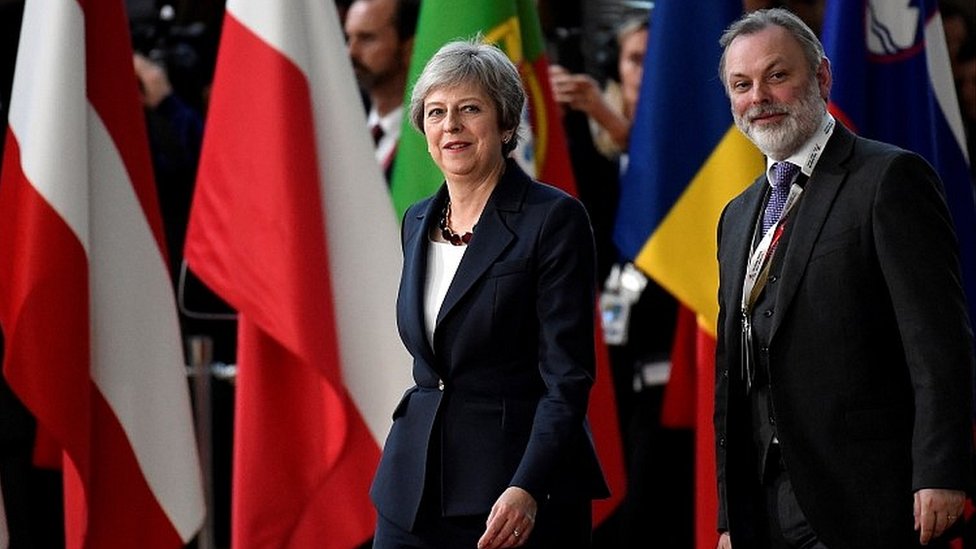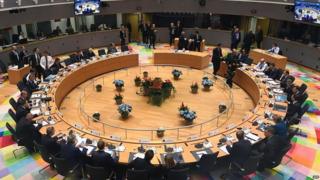 Theresa May is willing to consider extending the proposed 21-month transition period after Brexit to break the current deadlock over Northern Ireland, senior EU officials have said.
The BBC's Laura Kuenssberg said No 10 had refused to rule out extending it during a summit in Brussels.
The PM has been addressing EU leaders in the hope of advancing the process.
EU officials said insufficient progress had been made to call a special summit of leaders next month to draft a deal.
But they said talks should continue in the hope of forging an agreement as soon as possible.
After speaking to her 27 counterparts for about 20 minutes, Mrs May said she remained confident of a "good outcome" and called for "courage, trust and leadership" on both sides.
The UK is due to leave the EU on 29 March 2019 – but an agreement on how this will happen is proving elusive amid differences over how to prevent a hard border in Ireland.
The UK has signed up to the principle of a backstop – an insurance policy designed to prevent the need for customs checks at the border between Northern Ireland and the Irish Republic unless and until a new economic partnership is agreed with the EU.
But the two sides cannot agree over what form the backstop will take and how long it will last.
As it stands, the transition period – in which the UK would continue to abide by the rules of the single market and customs union – is set to last from 30 March 2019 until 31 December 2020.
But it could be extended until the end of 2021 – in the hope that it would give both sides more time to agree a future partnership and come up with a way of solving the border problem that avoids the backstop ever being needed.
---
'It just wouldn't fly'
BBC political editor Laura Kuenssberg
To many people, the idea of taking more time to sort things out will sound perfectly sensible. But to others, including many Tory MPs, it would mean the UK being trapped in the status quo until 2022
And more to the point, potentially having to promise to pay the EU billions more, without quite knowing for what.
And there's one giant problem. It's hard to see how it could get through the House of Commons. One former Remainer MP told me "it just wouldn't fly".
Iain Duncan Smith, the prominent Brexiteer, said "why are we agreeing to extend for another year when we have nothing back in return". Nick Boles, an influential former minister, wrote on Twitter, "good luck with that".
Remember getting Brussels on board is one thing. Theresa May has a harder job at home. And if she is looking for big rebellions, staying tied to the EU for longer is one way of making that happen.
---
Irish Prime Minister Leo Varadkar said a longer transition period was not a substitute for a concrete agreement over the backstop.
But he said the idea would have some merit, adding "if it did help to reassure people that the backstop would never be activated, that would be a positive thing".
Brexiteers, though, claimed Mrs May had conceded ground again without getting anything in return. One long-term critic, Nadine Dorries MP, said it was time for her to let someone else negotiate.
Former Ukip leader Nigel Farage said that it would delay full withdrawal almost until the general election scheduled for May 2022 and "may mean we never leave at all".
The president of the European Parliament, Antonio Tajani, suggested Mrs May was "neutral" on the idea of extending the transition but had shown willingness to look into the possibility.
He welcomed what he said was Mrs May's constructive tone but added that she had offered "nothing new" of substance in her speech.
"Both sides mentioned the idea of an extension of the transition period as one possibility which is on the table and would have to be looked into," he said.
"She underlined the importance of the issue but she didn't say anything in terms of content.
"She said we will keep under consideration the issue of the transition period but she did not say anything in favour or against the three-year period."
While not commenting on the transition issue, No 10 said Mrs May had asked EU leaders to work with the UK to find a creative way out of their current dilemmas.
Downing Street emphasised the solution lay in agreeing a future framework for an ambitious trade deal so the backstop would not apply.
Mrs May held separate talks with French President Emmanuel Macron, Mr Varadkar, and European Commission President Jean-Claude Juncker, in what British officials characterised as "constructive and serious conversations".
'Meaningful vote'
At the same time, a row has erupted back in Westminster over plans for Parliament to get a vote on any Brexit deal.
Some in Parliament want more than just a take it or leave it choice – with options for another referendum or further negotiations to be available.
But in a letter to the House of Commons procedure committee, Brexit Secretary Dominic Raab has appeared to suggest they won't get their way because the outcome of the vote should be unequivocal and anything other approval or rejection would bring uncertainty.