An action group at a west London tower block destroyed in a massive fire has said its warnings fell on "deaf ears" after it highlighted safety concerns.
The cause of the blaze at Grenfell Tower, north Kensington, is not known, but a blog post from Grenfell Action Group in November said "only a catastrophic event" would expose the issues.
Several hundred people are thought to have been in the block when the fire was reported at 1.15am, and London Fire Brigade confirmed there had been a "number of fatalities".
The group said there was only one entry and exit to the tower during improvement works at the block in Latimer Road and it had issues with evacuation procedures.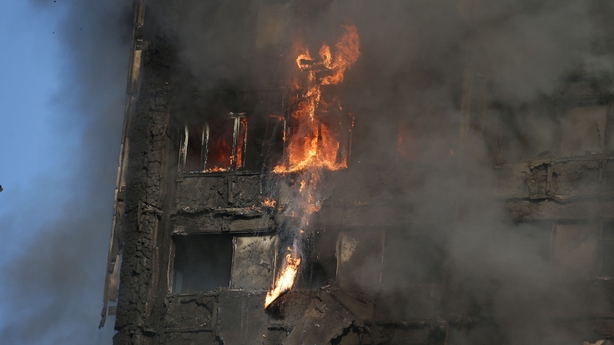 After the fire, the group posted: "All our warnings fell on deaf ears and we predicted that a catastrophe like this was inevitable and just a matter of time."
The group claimed access to the building was "severely restricted" for emergency services and other vehicles and that residents were advised to stay in their flats in case of fire.
The tower block was recently refurbished at a cost of £8.7 million, with work completed in May last year.
The exterior of the 1970s-built tower was modernised with cladding and replacement windows, while additional homes were added using vacant space in the building.
'Number of fatalities' have been confirmed in London tower block fire pic.twitter.com/QIZM1kEyyR

— RTÉ News (@rtenews) June 14, 2017
A statement from London Fire Commissioner Dany Cotton regarding the #NorthKensington tower block fire https://t.co/XL7F70rVeX pic.twitter.com/QWkTS5sMCX

— London Fire Brigade (@LondonFire) June 14, 2017
On its website, Rydon Construction said: "Externally, rain screen cladding, curtain wall facade and replacement windows were fitted, improving thermal insulation and modernising the exterior of the building."
But a resident of the 17th floor of the block, identified as Methrob, told LBC Radio the "real issue was when it caught fire to the cladding outside".
He added: "That's when I noticed the fire from outside when I looked out the window.
"By the time that we got downstairs, the fire had gone all the way up and it was just about reaching our windows on the 17th floor.
"The whole one side of the building was on fire. The cladding went up like a matchstick."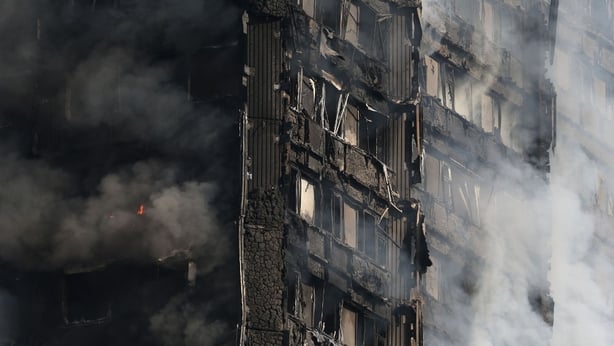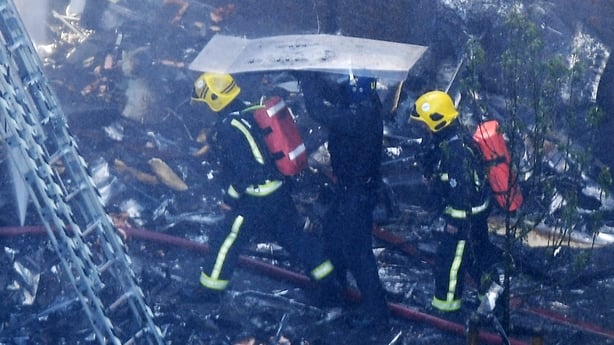 Methrob said residents had been concerned about safety, adding there had been warnings "for over a year".
He said one man was "trying to get everyone to get together to do something before it was too late".
London Mayor Sadiq Khan said questions will need to be answered.
Another witness, Samira, told BBC News: "It escalated really quickly. Around midnight the fire was only around the third floor and then, before you know it, the whole 23 floors of the building were all on fire and there were people screaming for help and throwing kids out.
"I think everyone felt really helpless because no-one could get to them. Everyone was really scared and they didn't know what to do and it was really sad to see.
"There was a lot of people there – children, elderly people and disabled people; my family members, who thankfully made it out. But there are still a lot of people who are unaccounted for."
"I think the speed of the fire was the most shocking thing for everyone, how quick it literally went from zero to 100
Samira added: "Like it was literally just the fourth floor and that was bad but it was really minor, and that building is really big and the whole building was gone – even before it hit 1am the whole building was in flames.
"I saw people flying out of their balconies and windows. I saw a man who flew out of his window, I saw people screaming for help. We saw a lot of people jumping out that basically didn't make it. It was from the eighth floor and up, and that kind of floor you wouldn't really make it."
Local resident Tamara told BBC News: "Around 12.30/1am my mum called me and said there was a fire outside. By the time I got there the whole right side of the building was on fire, the whole thing was engulfed in flames.
"We could hear people screaming 'Help me' so me and my brother, with some other people who live in the area, ran over to the estate to where you could still get underneath it and there were people just throwing their kids out saying 'Save my children'.
"The fire crew, ambulance and police couldn't do anything, they couldn't get in, and they were just telling them to stay where they are, and we'll come and get you. But things quickly escalated beyond measure and they couldn't go back in and get them.
Within another 15 minutes the whole thing was up in flames and there were still people at their windows shouting Help me
"You could see the fire going into their houses and engulfing the last room that they were in."
Labour MP Jim Fitzpatrick said the government has resisted calls to install sprinkler systems in high-rise blocks in the wake of the Lakanal House tragedy.
The blaze at Lakanal Flats, off Dalwood Street in Camberwell in 2009, killed a three-week-old baby, two children aged three and six, and three adults.
London Fire Brigade said the blaze – caused by an electrical fault with a television – began on the fourth floor of the 12-storey block and "spread rapidly" to the 11th floor.
Mr Fitzpatrick, who was a firefighter for 20 years, said: "We've been pressing for fire sprinkler systems in buildings where we think it's appropriate – certainly over a height level and in places where there is vulnerability, care homes and in schools – and Government has been resisting that for some time."
But he added: "There's obviously a huge number of questions going to have to be asked about what happened to Latimer Road but it's very early in the situation.
"It's a bit early to start pointing fingers, I would have thought."