Malaysia 1MDB: Ex-PM Najib appears in court to face corruption charges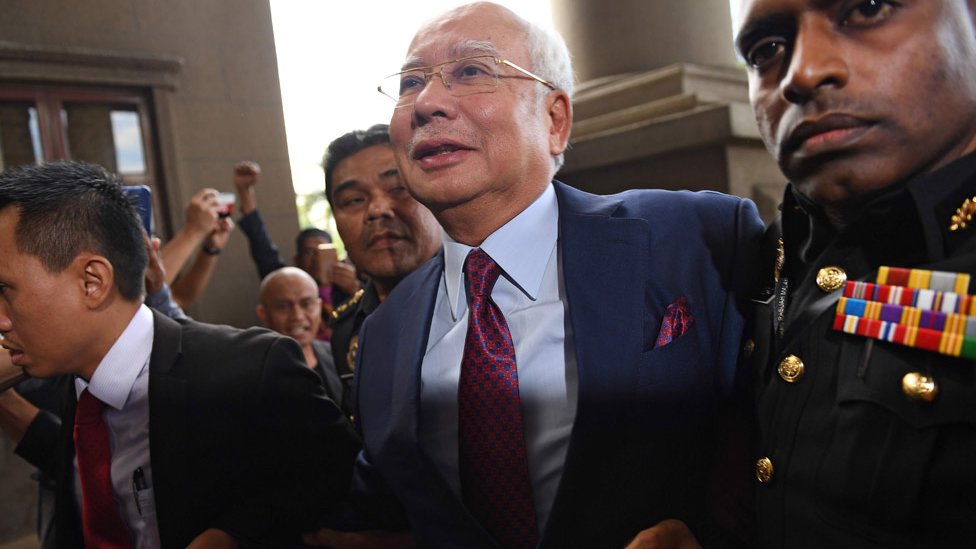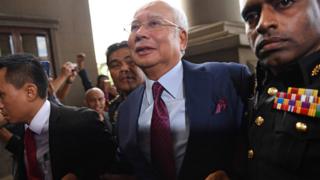 Former Malaysian PM Najib Razak has arrived in court in Kuala Lumpur to face corruption charges.
Mr Najib was arrested by anti-corruption authorities on Tuesday and spent the night in detention.
He has been accused of pocketing $700m (£517m) from the state development fund 1MDB, which he set up.
The ex-leader has been dogged by scandal for years and an investigation began after his shock election loss in May. He denies all wrongdoing.
The Malaysian state news agency Bernama said Mr Najib is expected to face more than ten counts of committing criminal breach of trust, linked to a former subsidiary of 1MDB.
In a pre-recorded video posted on Twitter on Tuesday, he appealed to the public not to believe the reports, saying that not all of the accusations were true. "I have not had a chance to defend myself," he said.
Billions of dollars are unaccounted for from the 1MDB fund.
Raids in recent weeks have been carried out across properties linked to Mr Najib.
Police say they recovered $273m in luxury goods and cash from a raid in June, calling the seizure of valuables the biggest in Malaysian history.
Jewellery accounted for the biggest portion of the seizure, with the most expensive item being a $1.6m diamond and gold necklace.
Mr Najib has always denied the corruption charges and had been cleared by Malaysian authorities while in power, but he is being investigated by several other countries.
He has been banned from leaving Malaysia.
1MDB, set up by Mr Najib in 2009, was meant to turn Kuala Lumpur into a financial hub and boost the economy through strategic investments.
But it started to attract negative attention in early 2015 after it missed payments for some of the $11bn it owed to banks and bondholders.
Then the Wall Street Journal (WSJ) reported it had seen a paper trail that allegedly traced close to $700m from the fund to Mr Najib's personal bank accounts.
Mr Najib has consistently denied taking money from 1MDB or any public funds.