Pariksha Pe Charcha 2020 Live Update
New Delhi:
PM Narendra Modi's 'Pariksha Pe Charcha' with school students has begun. The event is being held at the Talkatora Stadium in New Delhi. This is the third year of the unique program that started in 2018. PM Modi talks about Chandrayaan. He says that the entire country watched the launch of Chandrayaan with anticipation. The failure to launch Chandrayaan demotivated the entire country. Held right ahead of the board exams, the interaction with PM aims to help students combat stress and gain perspective on various aspects of student life.
Pariksha Pe Charcha 2020 With PM Modi: Live Update
Build Your Country To Lead: PM Modi To Students
"Have you ever thought where will you be in 2047, at the completion of 100 years of India's independence? You'd be leading someone, somewhere in life. If you get a broken and dilapidated country when you become a leader, would you able to lead well?" PM Modi
'Pursue Not Pressure': PM Modi's Message To Parents
Chaved Power, JNV, Andhra Pradesh, Karishma, Govt. Girls School, Kashmir, and Monika, DAV Public School, Chhattisgarh asked about how to cope with parents' expectation and the resulting stress?
PM Modi quips if this question is meant as a way for him to reprimand the parents. He adds that he doesn't intend to make children rebellious.
He gives the example of a spring and says that parents, guardians, and teachers should identify the capabilities of a student and polish that. 
He says that no matter how old you are or how old your children are, you should recall the time when your children were small. You encouraged them with love to take their first step. Accept that your child is older now but stick to the psyche of helping and motivating your child that you had when your child was small. 
In a family were parents think that they would support their child no matter what field they choose, they help their children into achieving success in life. 
He says, "Pursue not pressure."
Only 'Make In India' Products In the 75th Year Of Independence
PM Modi calls on students to pledge that in 2022, on the completion of 75 years of Independence, we will buy only 'Make In India' products. 
Duties Safeguard Our Rights: PM Modi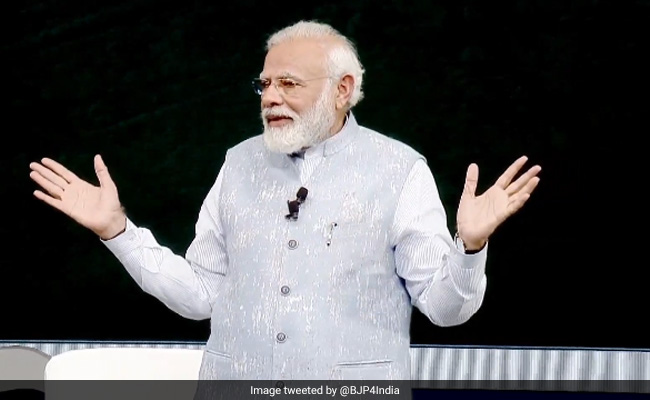 Tapi Aku, JNV Arunachal Pradesh, P Shailesh Kumar KV Chennai, Tamil Nadu, and Gunakshi Sharma, Maharaja Agrasen Vidyalaya, Gujarat asked the Prime Minister about civil rights and duties and which is more important. 
PM says that Arunachal Pradesh is the state where people greet each other with 'Jai Hind'. He says that this happened after the 1962 Indo-China war. The people in the state adopted Hindi along with their mother tongue heartily. 
At the painting exhibition he attended before the event, students were introducing themselves in their mother tongue and in one another language. 
Coming to the topic of Duties and Rights, he says all our Rights are emerged with our Duties. If a teacher performs his/her duty, then it automatically protects the rights of a student. He adds that if we all perform our duties, our rights are safeguarded. 
Use Technology, Do Not Let Technology Use You: PM Modi
K Divya from Govt. Model Sen. Sr. School Andaman and Deepesh from Namchi Sr. Sec. School, Sikkim ask about how can Educational Technology help students.
PM Modi asks, 'Is knowing about technology enough?' 
He says no. Knowing about gadgets is not enough. We should assess if we will use technology or technology will use us. Smartphones steal our time that we would be spending in the real world. He says we should be the master of technology and be able to determine how we will use it. 
Today's generation has figured out how to use technology to their advantage. 
He says that now he does not get the time but earlier he used to be inquisitive about Tech and would ask myriad of questions to understand a gadget. 
He requests that students should designate one room in the house where tech will not get entry. Do this and, he says, life will become more interesting. He says that one should balance life with tech. 
Extra-Curricular Activities Teach Important Lessons About Life
Prajakta, Kendriya Vidyalaya Jabalpur, Riya Negi from Government Girl Senior Secondary School Delhi, and Anamika from JNV Hooghly ask about the balance between Extra-Curricular activities and academic activities. 
He says that we should balance both extra curricular and academic activities. He says that ECA  should be done with all your heart and not with a disinterested mind. 
He then says that a negative trend has hit these days. Parents treat extra-curricular activities their children take up as a fashion statement. Parents derive pleasure from bragging about all the activities their children do. Parents have now begun to pressure children into taking up glamorous extra-curricular activities. 
"It is the parents' responsibility to pick the child's interests and take him/her to that activity," he added.
Extra-curricular activities should be integrated in life in a wholesome manner. If you embrace a ECA rich life, it provides lessons to live life after the academic life is over.
He also suggests students in class 10 and 12 to do something creative every day even if for 15 minutes. This will help them relax. We need ECA so that we do not turn into robots. 
Exam Is Not Life, Marks Don't Guarantee Success: PM Modi
Mayank, Bloomingdale Public School, Uttarakhand says that people like Mark Zuckerberg have proved that marks in exam do not assure success in life. So how much focus should be on scoring high marks?
PM Modi that unintentionally our society has become one that believes that marks are the only indicators of success. He says that once upon a time scoring high marks may have been the ticket to success, but the world has moved on and marks in exams are not your entire life. It is just one milestone. We should think of it as an important milestone but not everything. 
He requests parents and guardians that they should not pressure students into thinking that high marks in board exams are the only way to achieve success in life. 
Chandrayaan Teaches Us About Motivation In The Face Of Failure: PM Modi
PM Modi talks about Chandrayaan. He says that the entire country watched the launch of Chandrayaan with anticipation. The failure to launch Chandrayaan demotivated the entire country.
He says that he was warned not to go to the launch citing if the launch fails, to which he replied that it is exactly the reason why he should attend the launch. HE said that he could have left the event but he did not and stayed and talked to the scientists. He praised their efforts and witnessed a visible change in their demeanour. He says that we can get lessons on success even in failure.  
He adds that failure is sign of success that is waiting for us. 
Unfilled Expectations Lead To De-motivation: PM Modi
Rajasthan student, Yashasree from Swami Vivekananda School, says that thoughts of the board exam affects her mood and  asks how to motivate herself to work hard.
PM Modi says that youth should not feel demotivated. He says that de-motivation is often a result of external factors. He says the problem arises when we have expectations from others and it does not get fulfilled. 
He suggests that students should put themselves in other's shoes to understand why their expectations were not fulfilled. 
He adds there is rarely an individual who has not faced de-motivation in life because of Failure. 
#WithoutFilter: PM Modi Asks Students To Raise Questions Without Any Apprehension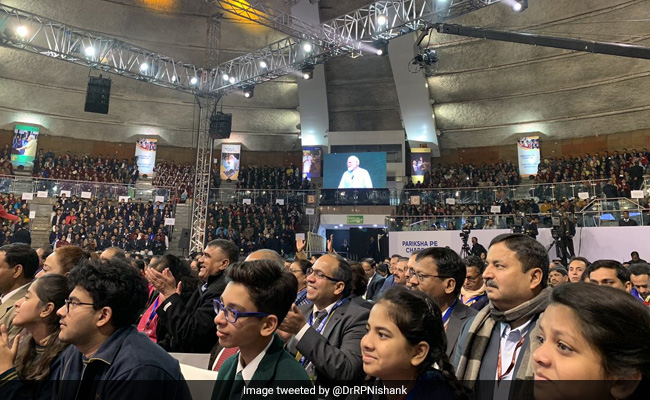 "I though I should share the burden your parents have to bear. I am also a member of your family, why not share your parents' burden on a community scale."
He says that we often tend to ignore what our own parents or guardians or teachers say but listen to what an outsider says. He says that I do this job acting as a friend and that is why I feel you all reciprocate. 
Referring to the social media trend  #WithoutFilter, PM has requested students to raise questions without any filter. 
Pariksha Pe Charcha> Closest To My Heart: PM Modi
"I have been tied down to government for a long time. I was a Chief Minister for  a long time and now you all gave me this job. The job demands me to attend many events and meet different kinds of personalities. Every event is important in a different way since I get to learn something new. But if someone asked me which event is the closest to your heart, I will say it is Pariksha Pe Charcha".
PM Modi Begins His Address, Calls Himself Students' Friend
Prime Minister Narendra Modi takes the stage to address students. He begins with addressing himself as students' friends. 
Referring to the new decade, he says that as much as this decade is important in students' life, the decade is also important for the country. He says that whatever the country does in this decade, the maximum contribution will come from students who will sit for their board exams this year. 
Union HRD Minister Takes The Stage To Welcome PM Modi
HRD Minister Mr. Ramesh Pokhriyal 'Nishank' has taken the stage to address the students and welcome PM Modi. He says that examinations never stop and every individual goes through different tests during their lifetime. 
Mr. Ramesh Pokhriyal 'Nishank' also talks about various digital initiatives started by MHRD including SWAYAM, DHRUV etc. 
PM Modi Enters Talkatora Stadium To Loud Cheers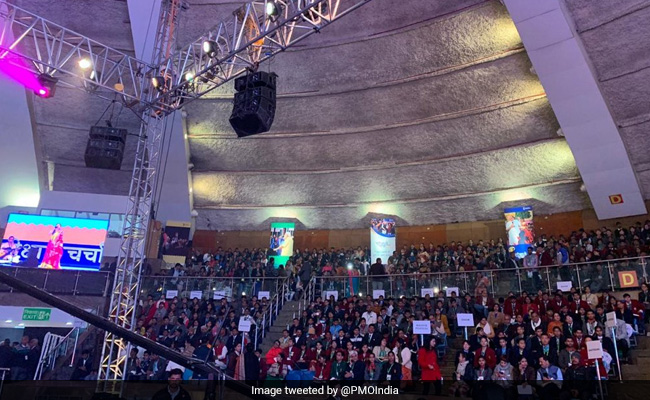 Prime Minister Narendra Modi has reached the stadium and was welcomed with loud cheers by the students and teachers present at the venue. 
Pariksha Parv: Exam Should Be Celebrated As A Festival
The theme for this year's Pariksha Pe Charcha centers around the idea that Exams should be celebrated as a Festival. 'Pariksha Parv' should not be feared but celebrated. 
PM Modi Attends Painting Exhibition At Talkatora Stadium
PM Narendra Modi, at Talkatora Stadium, is viewing a painting exhibition put on by students who have gathered from across the country. The paintings at the exhibition touch upon several topics like Gandhi and his life, Water conservation, Clean India etc. Some of the paintings also depict the tips given by the Prime Minister to students during the previous editions of Pariksha Pe Charcha. 
PM Modi Reaches Pariksha Pe Charcha Venue
PM Narendra Modi has reached Talkatora Stadium where the Pariksha Pe Charcha event is being held. The Union HRD Minister Mr. Ramesh pokhriyal 'Nishank' and MoS Sanjay Dhotre are also present. 
2,000 Students To Interact With Prime Minister For Pariksha Pe Charcha
Like last year, this year too students were selected to meet the Prime Minister and ask questions after going through a competition. The competition required participants to submit an essay in 1500 characters on one of the five themes decided by MHRD. 1,050 students were selected on the basis of essays submitted in the competition. 
Pariksha Pe Charcha 2020 Venue
Pariksha Pe Charcha 2020 is being held at the Talkatora stadium, the venue for previous two editions of the event as well.