Rossi, Morbidelli win the '100km del Campioni'
Rossi
and his protege, Petronas Yamaha MotoGP racer
Franco Morbidelli
, came out top in the fifth edition of the event, but were given a close challenge by Moto2 stars Mattia Pasini and Lorenzo Baldassarri.
A closely-fought battle went the way of Rossi and Morbidelli by just 1.514 seconds in the final reckoning, with Pasini suffering a fall in the closing stages of the 50-lap relay event.
Rossi had suffered a scare when he hurt his right knee when he struck a post in a small crash during practice, but after being cleared by doctors he was able to continue.
The podium was completed by Moto3 racer Dennis Foggia and another Moto2 rider, Federico Fuligni, who were 1m50s down on the winners and 11s clear of fourth-placed pairing Andrea Migno and Marco Bezzecchi.
Check out the best images from the event in our gallery below:
Mattia Pasini, Valentino Rossi, Nicolo Bulega, Marco Bezzecchi, Andrea Migno and others at the start line
Photo by: VR46 Riders Academy
Race start
2/15
Photo by: VR46 Riders Academy
Mattia Pasini leads Valentino Rossi
3/15
Photo by: VR46 Riders Academy
Franco Morbidelli in action
4/15
Photo by: VR46 Riders Academy
Marco Bezzecchi in action
5/15
Photo by: VR46 Riders Academy
Valentino Rossi leads Nicolo Bulega, Lorenzo Baldassarri and Stefano Manzi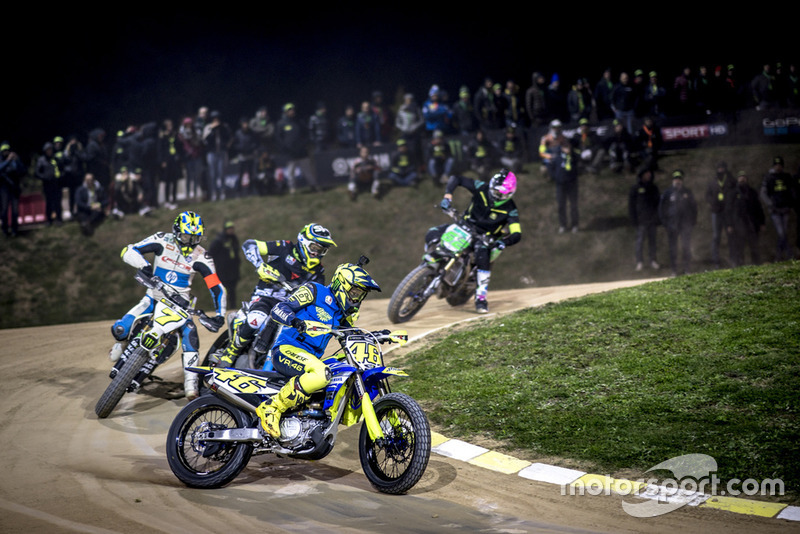 6/15
Photo by: VR46 Riders Academy
Valentino Rossi in action
7/15
Photo by: VR46 Riders Academy
Valentino Rossi in action
8/15
Photo by: VR46 Riders Academy
Valentino Rossi and Franco Morbidelli celebrating their victory
9/15
Photo by: VR46 Riders Academy
Valentino Rossi celebrates his victory
10/15
Photo by: VR46 Riders Academy
Valentino Rossi and Franco Morbidelli celebrate their victory
11/15
Photo by: VR46 Riders Academy
Valentino Rossi celebrating his victory with Nicolo Bulega and Lorenzo Baldassarri
12/15
Photo by: VR46 Riders Academy
Winners (Left to Right): Mattia Pasini and Lorenzo Baldassarri, Valentino Rossi and Franco Morbidelli, Dennis Foggia and Federico Fuligni
13/15
Photo by: VR46 Riders Academy
Lorenzo Baldassarri and Mattia Pasini
14/15
Photo by: VR46 Riders Academy
Dennis Foggia and Federico Fuligni celebrating their podium
15/15
Photo by: VR46 Riders Academy