The death toll from the devastating tower block fire in west London is expected to rise as investigators trawl through the wreckage in the search for other victims.
At least 12 people have died after the huge fire destroyed Grenfell Tower in north Kensington, where flames could still be seen burning more than a day on from the disaster.
More than £1 million has been raised to help those affected as fire tore through the 24-storey building while volunteers and charities helped with feed and shelter people who could not return to their homes overnight.
A wall of condolence was put up near the scene with photographs showing dozens of messages left for loved ones.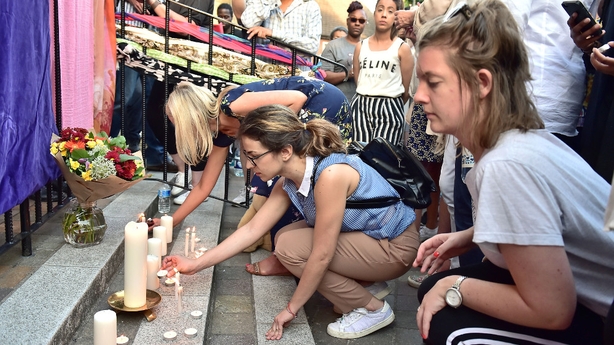 Prime Minister Theresa May has promised a "proper investigation" after the building went up in flames early yesterday morning amid growing concerns about how the fire could have spread so rapidly.
Speaking in Downing Street, Mrs May said: "When it's possible to identify the cause of this fire, then of course there will be proper investigation and if there are any lessons to be learnt they will be, and action will be taken."
---
Read More:
---
Residents' groups have claimed they voiced concerns about the safety of the building, which had been recently refurbished, while those who escaped complained their fire alarms had not been set off by the blaze.
One focus for the investigation will be the building's cladding, which architect and broadcaster George Clarke said may have accelerated the blaze.
Mr Clarke, who lives locally said: " I saw those cladding panels, the cladding on the outside and the insulation was just peeling off, like you'd peel a banana.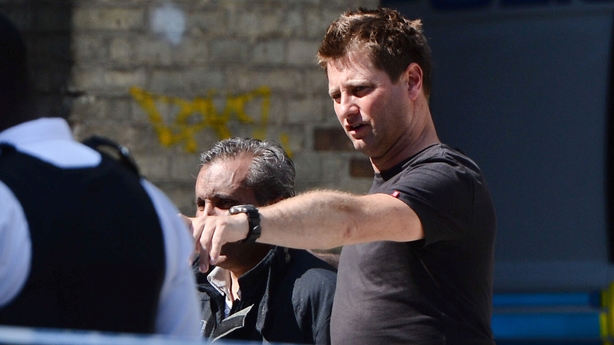 "It was fully on fire. I could see the flames behind – there's a new cladding system put on the outsides that looks like a new skin, there's an air gap an insulation behind that, to me that looks like a fantastic chimney for the fire to rage around."
Grenfell Tower, which built in 1974, was recently refurbished at a cost of £8.6m, with work completed in May last year.
Kensington and Chelsea Council admitted it had received complaints over the works, after a residents' action group said its warnings about safety had fallen on "deaf ears".
A blog post from Grenfell Action Group in November said "only a catastrophic event" would expose the concerns residents had.
The group said there was one entry and exit to the tower during improvement works and it had issues with evacuation procedures.
Concerns had also been raised about exposed gas pipes weeks before the devastating blaze.
Rydon, the firm that carried out the refurbishment work, said the project "met all required building regulations", in its latest statement following the fire.
But a line stating that the project had met all "fire regulation and health and safety standards", which was included in an earlier release, had disappeared.
Meanwhile, work is continuing to tackle "pockets of fire" in the block, with several residents reporting one man had said it started in his faulty fridge.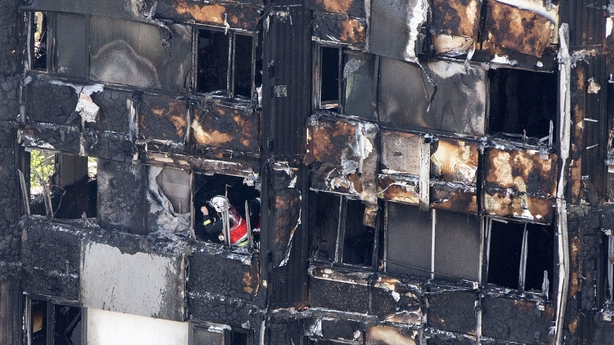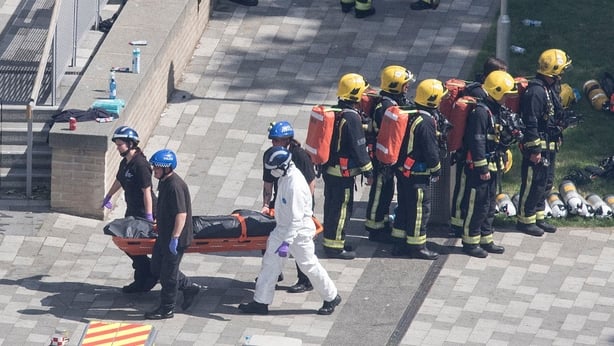 Many people are still unaccounted for with firefighters saying  the operation now in the "recovery phase".
Commander Stuart Cundy of the Metropolitan Police said: "This is going to be a long and complex recovery operation and I do anticipate that the number of fatalities will sadly increase beyond those 12."
Witnesses described hearing screams for help from people trapped on the upper floors of the block as flames engulfed the building, which contains 120 flats thought to be home to between 400 and 600 people.
Children and a baby were seen being thrown out of the windows to be caught by emergency workers and members of the public below.
London Fire Brigade said it had rescued 65 people as flames engulfed the block, and had managed to reach all 24 floors, though a full search of the building has not been completed.
NHS England said 74 patients were treated in six hospitals across London. Thirty-four remain in hospital including 18 who are in critical care.