Efforts to resume power-sharing will resume at Stormont this morning.
Minister for Foreign Affairs Charlie Flanagan as well as the reappointed Secretary of State for Northern Ireland, James Brokenshire, are to meet the Northern Ireland parties.
Fluid is an understated way to describe the current state of politics in Northern Ireland and in Westminster.
Today, before travelling to London to discuss the terms of which it might shore up a minority Tory government, the DUP will gather with the other political parties at Stormont.
Northern Ireland has been without a devolved administration since the collapse of power-sharing in January. Civil servants are in a care-taking role.
29 June is the deadline set by the British government for an agreement among the parties.
Mr Brokenshire was last night reappointed Secretary of State by Theresa May.
Some query his capacity to independently chair sections of the talks, given the Tories likely liaison with the DUP.
Minister Flanagan will represent the Irish Government at today's gathering.
Tommie Gorman: Arlene and the DUP head for centre stage
Meanwhile, the leader of the Democratic Unionists has pledged to exercise the party's enhanced influence at Westminster responsibly.
Arlene Foster said she hoped to capitalise on opportunities the situation presented for Northern Ireland.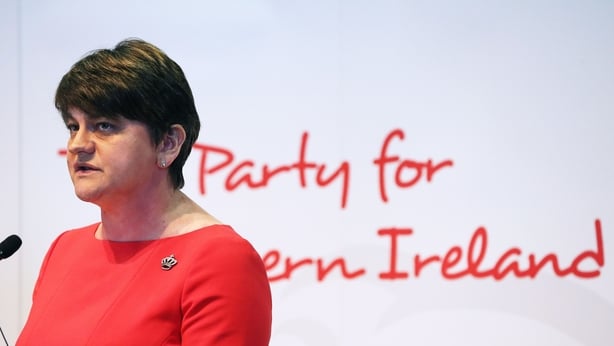 Talks are continuing between the DUP and Conservatives over a potential confidence-and-supply arrangement to support Mrs May's minority government.
Mrs Foster said: "When I meet with the Prime Minister in London tomorrow, I will be mindful of our responsibility to help bring stability to the nation at this time of challenge.
"We will be working to agree arrangements that can provide the whole nation with good government.
"The DUP will work to bring about outcomes that are beneficial to all, and in Parliament Northern Ireland's case will be centre stage."
It is likely the DUP will press for increased investment in Northern Ireland as the price of their support in Westminster and push for a more significant role in the Brexit process.
The DUP's social conservatism on issues such as gay marriage and abortion has been in the spotlight in Britain since its role as parliamentary kingmaker became clear.
Mrs Foster branded some of the commentary and analysis about her party as "inaccurate and misleading", saying: "I have no doubt over time those responsible will look foolish in the extreme".
Mrs Foster, writing in the Belfast Telegraph, said the election result had caused a "political earthquake" across the UK.