US congressman hurt in shooting at baseball practice
A gunman opened fire on Republican members of Congress during a baseball practice near Washington, wounding several people including House of Representatives Majority Whip Steve Scalise before being taken into custody, police and media reports said.
Alexandria police said five people were "transported medically from the scene".
Representative Mo Brooks of Alabama told CNN the gunman was armed with a rifle and appeared to be a white male, "a little bit on the chubby side."
Mr Brooks said he saw the man only for a second, and that he was shooting from a chain link fence behind the third base position on the field where the congressional group was holding its morning practice.
"There must have been 50 to 100 shots fired," he told CNN.
"I hear Steve Scalise over near second base scream. He was shot," said Mr Brooks, adding he helped apply a tourniquet with his belt to a congressional staffer who was shot in the leg.
"One of our security detail was shooting back, but it was our pistol versus the shooter's rifle," Mr Brooks said.
"The only weapon I had was a baseball bat."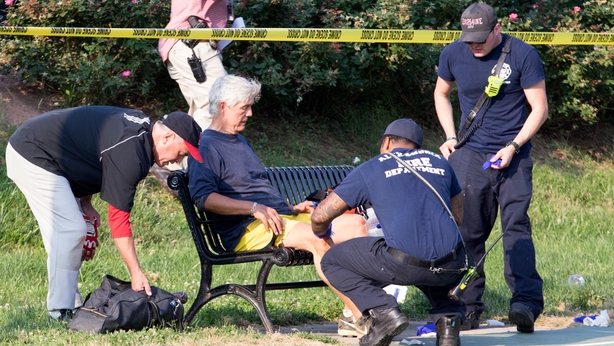 Fox News anchor Bret Baier tweeted that Mr Scalise was shot in the hip and is expected to survive.
Mr Scalise's position as whip in the Republican-controlled House makes him one of the most senior figures in Congress.
He is a Republican from Louisiana. 
Alexandria police confirmed that the suspect is in custody and is not a threat.
ALERT: APD investigating multiple shooting 400 block E Monroe St. Suspect believed in custody. Stay from area, let emergency vehicles thru.

— Alexandria Police (@AlexandriaVAPD) June 14, 2017
UPDATE: Suspect is in custody and not a threat. PIO will be onscene shortly to share updates.

— Alexandria Police (@AlexandriaVAPD) June 14, 2017
The GOP congressmen were practising ahead of tomorrow's congressional baseball game – to honour UK terror victims https://t.co/EAhjOT3JGU

— Caitriona Perry (@CaitrionaPerry) June 14, 2017
Two Capitol Hill police officers were also shot.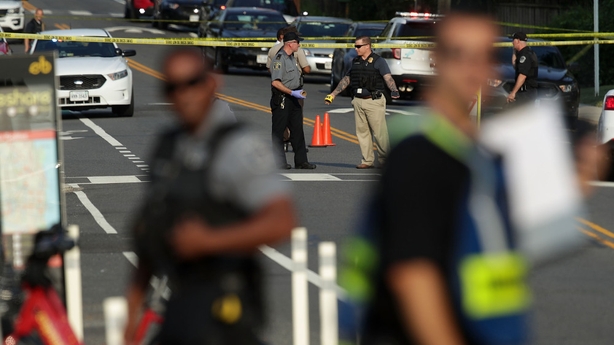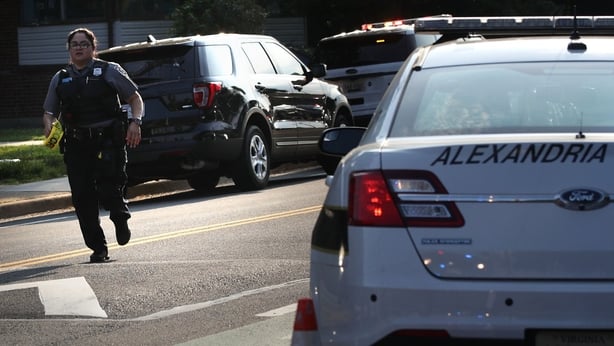 Mr Scalise "was not able to move on his own power. He was dragging his body from the second base infield to the outfield to get away from the shooter while all this firing was going on," Mr Brooks said.
US President Donald Trump said he and Vice President Mike Pence were aware of the shooting and are monitoring developments closely.
"We are deeply saddened by this tragedy. Our thoughts and prayers are with the members of Congress, their staffs, Capitol Police, first responders, and all others affected," Mr Trump said in a statement.
Rep. Steve Scalise of Louisiana, a true friend and patriot, was badly injured but will fully recover. Our thoughts and prayers are with him.

— Donald J. Trump (@realDonaldTrump) June 14, 2017